Hey ya'll! It's Danielle from Food Confidence here again with this week's smoothie for you to enjoy. This one is actually near and dear to my heart. I tend to like my smoothies a bit on the tangy side and this combo contains all my favorite flavors.
The star of this smoothie is arugula. You may have had arugula in your salad before, but it actually falls into the cruciferous vegetable family (that means it's cousins are cauliflower, broccoli, and cabbage). In addition to its cancer protective qualities, arugula is a nutrition powerhouse –containing eight times the calcium, fives times the vitamin A, vitamin C and vitamin K, and four times the iron as iceberg lettuce.
So now that I've convinced you of arugula's health benefits, you must give it a try in this slightly sweet, slightly peppery, slightly lemony delight!
Here's how you make it:
Ingredients
2 big handfuls arugula
juice of half a lemon
1/2 cup frozen pineapple
1/2 cup frozen mango
1 apple, cored
4-6 oz cold water
Method
Blend the arugula with the lemon juice and water; then add the apple and frozen fruit and blend until smooth.
Zesty Tip: Use your palm to roll your lemon around on the countertop a few times to loosen up the juices and increase the yield!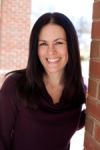 Danielle Omar is a nutritionist for busy men and women, focusing on creating personal eating strategies through her signature approach, "Learn it, Live it, Love it." She loves helping working parents, busy families, and stressed out professionals change the way they think about food. Join
Danielle's newsletter
for inspiration and tips to help you become a confident eater.