Hey Cooking readers, it's Danielle again from Food Confidence with another smoothie recipe for you to try! We're going green again this week but it's all good. This smoothie will take you back to your last tropical vacation! It's smooth and creamy and one of my favorites (your kids will drink it up, too)!
It's also a great beginner recipe for anyone new to adding greens to their smoothie — you won't even taste the spinach, despite the green color!
Ingredients
1 cup frozen pineapple
1-2 handfuls baby spinach
4-6 oz unsweetened coconut milk
1 banana (can be frozen)
5-6 sprigs mint
Method
Place the coconut milk, spinach, pineapple, banana and mint in a blender. Blend until smooth.
Zesty Tip:  Fresh mint is easy to grow in your kitchen window sill or even on your deck/porch.  Save lots of money through the year with your own mint patch.  Great for drinks, desserts and even to freshen your breath.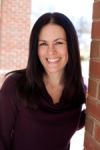 Danielle Omar is a nutritionist for busy men and women, focusing on creating personal eating strategies through her signature approach, "Learn it, Live it, Love it." She loves helping working parents, busy families, and stressed out professionals change the way they think about food. Join
Danielle's newsletter
for inspiration and tips to help you become a confident eater.