Hey there it's Danielle from Food Confidence with this week's luscious green smoothie!  This one is a great on-the-go breakfast or post workout recovery shake.  It's full of chocolately-peanuty mango flavor.  If you're scared to try this shake because it's green, I promise…you don't taste the spinach at all!  That's just one great reason to add baby spinach to your smoothies, you get tons of good nutrition without sacrificing great taste.  Mango is also a nutrition star —  it contains vitamins A, C and D along with the antioxidant power of 25 different kinds of carotenoids, including beta carotene.  These antioxidant compounds have been found to protect against colon, breast, leukemia and prostate cancers.
Here's how you make it:
Ingredients
6-8 oz unsweetened almond milk
1 Tbsp natural peanut butter
1 cup frozen mango
1 big handful baby spinach
1 scoop chocolate protein powder (I use Vega One)
Method
Place the almond milk, spinach, peanut butter, mango and protein powder in a blender.
Blend until smooth and enjoy!
Zesty Tip: You never have too much frozen fruit on hand.  This is a great way to keep your smoothies unique and non boring but also a great way to make your smoothies cold and ready to go.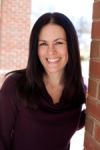 Danielle Omar is a nutritionist for busy men and women, focusing on creating personal eating strategies through her signature approach, "Learn it, Live it, Love it." She loves helping working parents, busy families, and stressed out professionals change the way they think about food. Join
Danielle's newsletter
for inspiration and tips to help you become a confident eater.