Hey there, it's Danielle here again with this week's smoothie!  And guess what, today's delicious smoothie treat is not green!  Are you excited?  It's a beautiful ruby red from this week's star ingredient…raspberries! Raspberries are a smoothie favorite for me, I love the sweet-tart taste they impart and the pretty color. Of course raspberries are good for you, too!  One of the most powerful antioxidant and anti-inflammatory fruits, they're also rich in Vitamin C, fiber and the mineral manganese. Recent research shows they may even help you lose weight!  For the most antioxidant support, choose fully ripe berries and eat them within 1-2 days after purchase.
Okay, on to the recipe!
I topped mine with a few freeze-dried raspberries and yes, you should definitely serve your smoothies in a margarita glass!  :)
Ingredients
3/4 cup raspberries, frozen
3/4 cup coconut milk, unsweetened
1 tbsp peanut butter
1/2 banana (can be frozen)
1 scoop vanilla whey protein powder
Method
Place the coconut milk, raspberries, peanut butter, banana and protein powder in a blender.
Blend until smooth.
Top with fresh or freeze-dried raspberries!
Zesty Tip: Raspberries freeze very well. Rinse them gently using the sink sprayer and pat dry with a paper towel. Arrange in a single layer on a cookie sheet and place them in the freezer. Once frozen, transfer the berries to a heavy plastic freezer bag and return them to the freezer where they will keep for up to one year.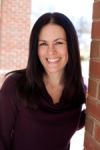 Danielle Omar is a nutritionist for busy men and women, focusing on creating personal eating strategies through her signature approach, "Learn it, Live it, Love it." She loves helping working parents, busy families, and stressed out professionals change the way they think about food. Join
Danielle's newsletter
for inspiration and tips to help you become a confident eater.